Publication Date:
01/03/2021
If you're into beauty and self-care, the chances are that one of your most effective ways of looking your best and relaxing is through beauty treatments. Typically, cosmetic treatments are less invasive than surgery and significantly improve your skin's look and feel. Even so, the effectiveness and costs of self-care treatments usually vary with skin type and the salon you visit.
Besides little recovery time, beauty treatments have one correlation; popularity. Although teeth whitening, gel manicure and nail art are in style, surprisingly, they not the most trending self-care treatments. The Your Beauty Review team took a look at some of the most popular beauty treatments of 2021 and there's some pretty interesting cosmetic trends have been uncovered as booming in popularity.
If you are considering trying something new to pamper your body with, then look no further. This article gives you an insight into the most popular aesthetic treatments.
If you're a hair and beauty professional and would like to see your salon listed on our directory, please follow this link to register!

1. HydraFacial
This is, by far, the most popular beauty treatment. It is thought that a HydraFacial is performed every fifteen seconds around the world. After all, our favourite celebrities like Beyoncé and Britney Spears are reaping glowing results from this magical facial.
This treatment uses a graded medical device to cleanse, extract dead cells, hydrate and feed the skin with essential nutrients. It involves several gentle techniques, including a painless vacuum-powered extraction to remove 'gunk' and blackheads. Anti-oxidants are then applied to replenish the skin and finished off with an LED light therapy for an instant glow.
This approximately thirty-minute-procedure is the perfect solution for all skin dilemmas, from dull, wrinkled and hyperpigmented, to rejuvenated skin with an instant radiance.
2. Dermaplaning
This popular skin treatment made its way into the market through social media. Today, dermaplaning is one of the most sought-after facial care remedies, with studies showing popularity going up by 621% year on year.
How does it work? A dermatologist uses a surgical scalpel to gently shave the face, scraping off dead cells and fine hairs from the skin's surface. This treatment is excellent for removing peach fuzz, leaving you with brighter, smoother skin. The process is painless, you will barely feel anything, but you will notice your more radiant and luminous complexion.
Better still, all skin barriers will be removed, allowing your skincare products to work more effectively, soaking deeper into the layers.
3. Brow Lamination
Brows are already big news, with shaping, threading and micro-blading as the most common treatments. However, a stylish lamination trend originated in 2019 and grew by 465% over 2020. Come 2021, brow lamination has earned its place among the most popular brow hacks preferred by clients and spas.
This technique entails applying a chemical to straighten, separate and brush the brows upwards. A styling lotion is then applied, and the hairs swept using a spoolie to brush to the desired shape. An optional tint is then used to make the brow fuller. The result promises sleek, shinier and better-shaped brows with a lasting hold of up to eight weeks.
4. Lash Lift
Although mascara is the beauty industry's largest category, according to research, lash lift could be replacing the traditional eyelash formula! This treatment is skyrocketing in popularity since it lasts longer and saves women time getting ready.
This revolutionary beauty treatment is also known as LVL. A chemical solution is used to perm and shape your lashes. Unlike extensions, there is no fuss of glue and self-application. Tactfully, the lash is volumised, lifted and curled for a stunning, fresh eye-opening look.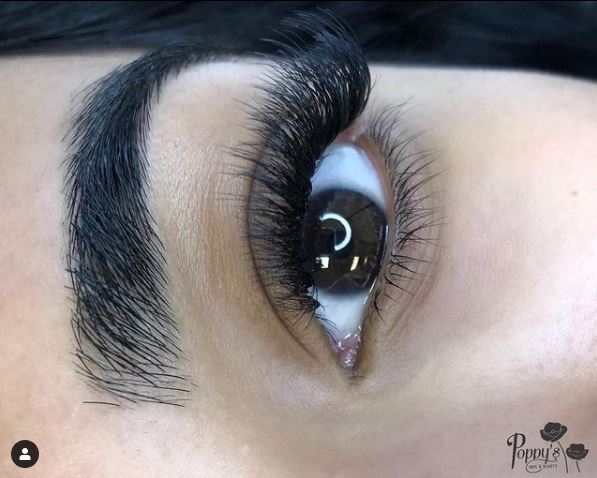 5. Liquid Nose Jobs
As seen on social media, liquid nose jobs are the most convenient fad. This gold standard procedure is ideal for people who want to smooth out bumps or make the nose look less angular without going under the knife for a nose job.
Liquid rhinoplasty is relatively simple; after the anaesthetic takes effect, the doctor injects liquid fillers to reshape the nose to your desired preference. The process takes between fifteen to forty-five minutes. There may be some redness or swelling where the needle was inserted, but it will subside within two hours.
There is practically no recovery time; you can go back to your day's activities, with the fillers lasting for more than six months.
6. Sugaring
Yes, there is a natural and environmentally conscious alternative to traditional waxing. Interesting to know, sugaring has been used for centuries, with its root in ancient Egyptian cultures. Fortunately, this hair removal treatment has found its way into the market with a boom!
It involves a gentle mix of sugar, water and lemon, formed into a paste and applied to the hair removal area. The paste is soft enough to penetrate the pores and adheres to individual hairs, pulling them out from the roots.
Sugaring is a more subtle method than waxing since it does not stick to the skin, thus minimal irritation and redness. While most salons use honey for softer results, this beauty treatment generally provides gentle exfoliation. Better yet, it is vegan-friendly and smells delicious.
7. Fat Freezing
Fat freezing, also known as Cryolipolysis, is a step up from the ordinary liposuction for fat removal. Fitness being the desired body goal on everyone's mind, this non-surgical procedure has seen a rise in popularity and preference like never before.
CoolSculpting is a much faster and effective way of getting rid of stubborn fat without needles, downtime or scars. The technique involves using a moulded cup placed under the treatment area, and temperatures dropped to -4 degrees Celsius. The fat then freezes and dies before eventually being removed from the body through its natural cleansing processes.
This simple process takes about 35-75 minutes, with significant results visible within a month or two of scheduled sessions as advised by the doctor.
With numerous beauty treatments to choose from, you have no reason to look dud even on your worst day. Appearing fashionably stunning should be your new beauty trend, simply wake up and glow!